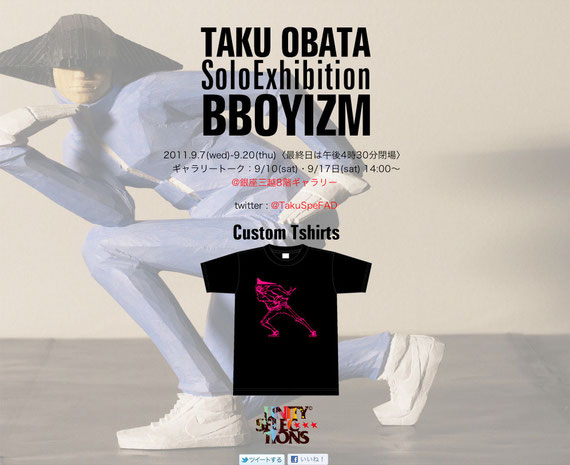 EXHIBITION OF TAKU OBATA
BBOYZM
The exhibition of Taku Obata
DATE : 7th Sep 2011~20th Sep 2011 
AT Ginza Mitsukoshi Gallery 8F
TEL 03-3562-1111
※The final day closes at 4:30 pm
PROFILE
Born in Saitama,1980. Growing up with Bboying (breakdance) since he was 17. 
He expresses himself by making sculptures which dynamically show the movement of the human body. 
The relationship by wood carving without plinth between the human body and clothes, the sculpture of the b-boy has progressed, and the space that is born in the beginning is pursued. 
The work with which the tension and power overflow is developing. 
In 2008, he finished the Tokyo art university graduate school art research course (master's course sculpture major). 
He won the grand prize at Tokyo Wonder Wall in 2008.
He did a one-man exhibition  "IT'S JUST BEGUN"  at Tokyo Wonder Site Hongo. 
小畑多丘展
会期:2011年9月7日(水)~20日(火)
※最終日は午後4時30分閉場
会場:銀座三越8階ギャラリー<電話03-3562-1111(大代表)>

プロフィール1980年、埼玉県生まれ。BBOYING(ブレイクダンス)に親しみ、その身体表現技術や躍動を彫刻でも精力的に表現し続け、台座の無い木彫による人体と衣服の関係性や、BBOYの彫刻を端緒に生まれる空間を追求、緊張感と迫力あふれる作品を展開。2008年、東京藝術大学大学院美術研究科修士課程彫刻専攻修了。2008年、「トーキョーワンダーウォール公募2008(立体・インスタレーション作品)」大賞受賞。2009年、個展「IT'S JUST BEGUN」トーキョーワンダーサイト本郷にて開催。